GamCare is the leading provider of information, advice, support, and free referrals to prevent and resolve gambling problems in the UK. To the surprise of many, recently, GamCare equated crypto trading with gambling activities and stressed the necessity of self-exclusion for traders. The reason for this is the appearance of the first signs similar to gambling addiction, which has negative consequences.
Cryptocurrency Trading and Gambling: Similarities According To GamCare
The crypto market appeared relatively recently but has already experienced an uncountable number of ups and downs. The crypto traders and miners lost and earned on fluctuations in cryptocurrency rates literally staggered the imagination. Cryptocurrency trading, compared to ordinary stock trading, is considered a particularly risky activity. Having tools that can block crypto trading such as Gamban may have a positive influence on both traders and cryptocurrency platforms. The crypto market is highly volatile, and it is often impossible to predict in which direction the price of coins will turn.
GamCare believes that the addiction of traders can be even stronger than that of poker players, for example, especially if we are talking about a lover who gets a dose of adrenaline by betting on the growth of certain coins.
Crypto creates the misconception that coins have a reputation for being high-tech means of payment. This provides constant faith in the growth of quotes and turns investors into gamblers.
In pursuit of profit, a crypto trader must constantly take risks. On the day, he can make many transactions as the price of some small coins rises or collapses at one moment. The conditions under which a trader (or, in this context, a gambler) must constantly be in the "game" are similar to gambling in an online casino. Based on this and a number of other aspects, GamCare made this decision and added crypto trading to the number of gambling activities.
How GamStop Experience Can Be Applied For Crypto Trading?
GamStop and GamCare have the same goals, but so far different in that the former does not yet extend its activities to crypto trading. But according to experts and analysts, it may soon do so. The reason for this is the great experience and the availability of the necessary tools used for online casinos, bookmakers, etc., which can be applied in the field of crypto trading.
One obvious tool is the self-exclusion periods that traders can set for themselves. Just like in the case of non GamStop casino online accepting crypto, when customers exclude themselves from playing casino games, crypto traders could use a piece of software that would force them to take temporary breaks, do things IRL, and analyze everything without making impulsive decisions. Most crypto market players actually understand that they will lose money. But they still decide on super-risk operations – and miss the moment when the amount of potential loss becomes fatal.
Also, the most important advantage of the GamStop program is the voluntary nature and the company's policy of independent choice. This can also apply to cryptocurrency trading. Traders who feel they need a break can voluntarily make this decision, and no one will force them to do so.
The Benefits of Crypto Trading Self-Exclusion Software Like GamStop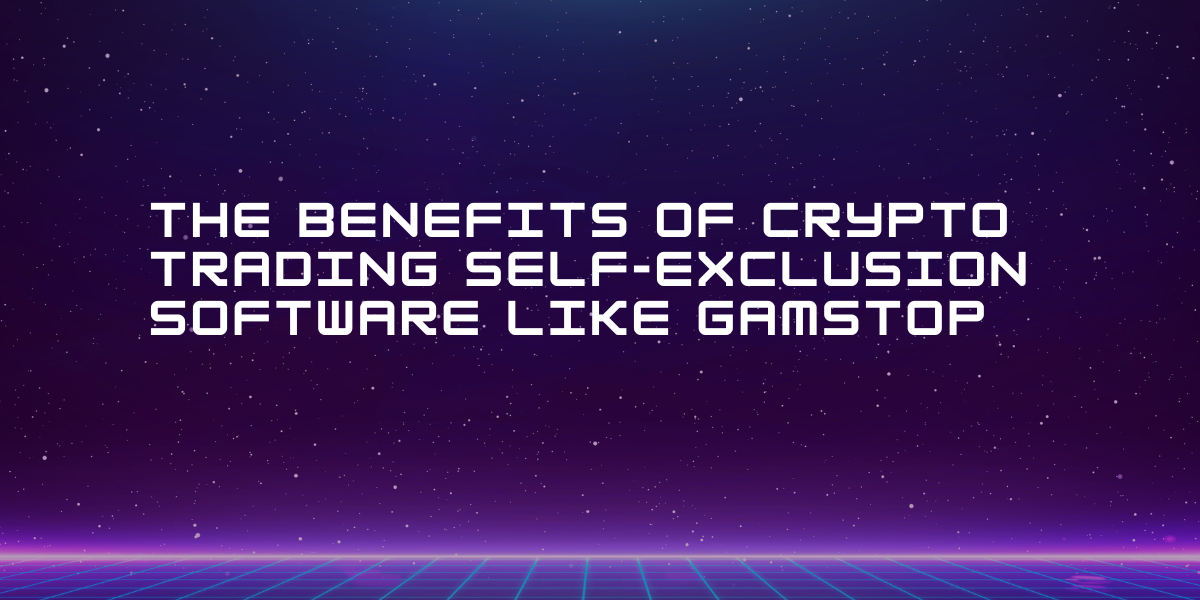 The GamStop program has been showing quality and performance since its first launch in April 2018. Many gamblers were sceptical about this, but still, they understood the importance of controlling gambling activity and fighting addiction to gambling, betting, and all that. Similarly to gambling platforms, the possible collaboration of self-exclusion programs like GamStop and crypto platforms could be used to the great advantage of all people involved in high-risk crypto trading operations.
Regulated Environment
As in gambling, crypto trading is known for various fraudulent and fake platforms. Using self-exclusion programs will create a safe environment and guarantee the protection of traders in all aspects. There is nothing wrong with trading cryptocurrencies if you approach the issue rationally and wisely. But not everyone follows responsible gambling rules and is honest in this business.
Take a Break From Cryptocurrency Trading
What was mentioned earlier is an important part of any activity. Crypto trading is no exception. Successful traders rely not on luck but on their own calculation, which can only be obtained in a calm and "quiet" environment.
Learn About Possible Negative Impacts
Crypto trading is a rather specific and difficult field. But still, at some point, it is difficult to overcome the addiction. Self-exclusion programs have a large knowledge base, advisors, telephone support, and other valuable educational features. This will help traders understand what addiction is and what negative aspects it can bring to life.
Great Budget Control Tool
Many traders are skilled in money management and budgeting. But this is only before they become addicted, and these actions become systematic and, to a greater extent, lead to the loss of real money. Self-exclusion programs allow you to set budget limits, which will help you control money-related activities.
Conclusion
According to GamCare, crypto trading is similar to gambling addiction, especially in the case of people who trade crypto on a daily basis, lose large sums of money, and start chasing losses. Self-exclusion programs for gambling platforms familiar to many have demonstrated their effectiveness and usefulness for a long time. GamCare was the first to announce the expansion of the scope of the self-exclusion program. How effective it is and whether other companies will use it, like GamStop, time will tell.
The post GamCare Calls For Crypto Trading Self-Exclusion: Will GamStop Take Actions? appeared first on CoinJournal.