Hyundai and Kia have introduced an AI-enabled supply chain carbon emissions tracking solution on the Hedera Network.
Hedera (HBAR) briefly surged above $0.053 after the announcement.
The adoption of Hedera technology by these two major automakers indicates an increase in blockchain adoption.
Two significant automakers, Hyundai and Kia, have adopted the Hedera network, pointing to an increase in blockchain adoption. Hyundai Motor Company and Kia Corporation have reportedly introduced an AI-powered CO2 Emission Monitoring System with the help of the highly scalable Hedera Network.
We're excited to announce that @HMGnewsroom, the largest car manufacturer in South Korea, and @Kia have introduced an #AI-enabled supply chain carbon emissions tracking solution on the highly scalable @Hedera network 🇰🇷 pic.twitter.com/PiI7sUfE9G

— HBAR Foundation (@HBAR_foundation) August 2, 2023
According to a post by the HBAR Foundation, the launch of a blockchain-based Supplier CO2 Emission Monitoring System (SCEMS) on the Hedera mainnet demonstrates that the value of Hedera Network is "seen by enterprises beyond the Governing Council" and "when data accuracy and security are mission critical, Hedera is second to none"
The SCEMS is made to calculate carbon emissions at every step of the supply chain, giving Hyundai Motor and Kia access to accurate information about the operations of their suppliers, including the sourcing of raw materials, the manufacturing process, and the transportation of finished goods.
This is a huge step towards successfully mitigating the effects of climate change, which requires a reduction of carbon emissions.
SCEMS also incorporates AI technology, allowing for the precise prediction of future carbon emissions and the setting of carbon reduction goals.
Hedera (HBAR) price reaction
The price of HBAR, the native token of Hedera Network, saw a significant price surge that briefly pushed the price above $0.053, although the price has since slightly pullback to around $0.052 at the time of writing.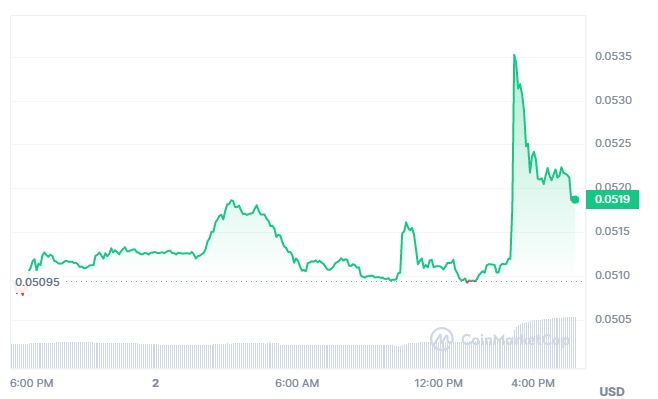 While there was a slight price surge, the pullback could good sign that Hedera is under quite some strong bear forces that have been pulling down the HBAR price over the past month.
The post Hyundai and Kia tap Hedera Network for CO2 emission monitoring system appeared first on CoinJournal.