Most metaverse tokens rose sharply on Monday as cryptocurrencies retreated.

The jump happened ahead of Apple's WWDC event on Monday.
Metaverse tokens like Decentraland MANA, Sandbox's SAND, and Axie Infinity's AXS were among the best-performing coins on Monday. Other metaverse tokens like Enjin Coin and ApeCoin were also in the green. Most of these coins rose by more than 1.5%, which is a better performer than other coins like Bitcoin and Ethereum.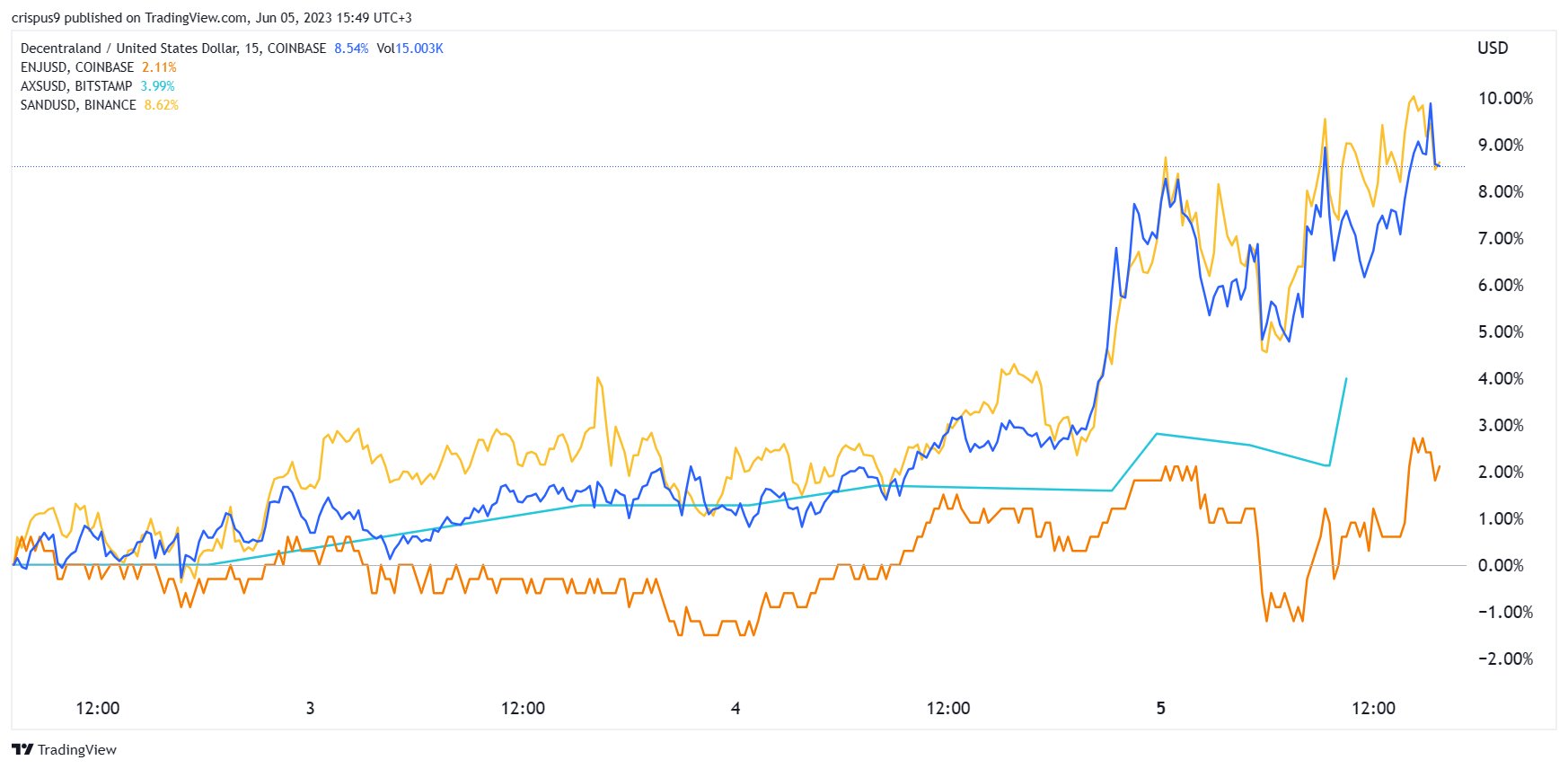 Apple WWDC event
The main reason why metaverse tokens jumped on Monday is the upcoming WWDC event by Apple. Historically, this has been the biggest event in the tech calendar since the company usually unveils its key upgrades.
Apple is seen as the benchmark for key products. It made key products like iPhones, Apple Watch, and iPads cool. Today, other companies in the technology industry have come up with similar products.
Analysts believe that the WWDC event will see the company unveil its virtual reality set, which is its first major product in a decade. The company has been working on this product in the past seven years. In this period, the company has long believed that its product was not ready yet. According to the WSJ, the device will retail at $3,000, making it one of the company's most premium products.
Experts believe that Apple's entry in the industry will take the virtual reality industry mainstream. In the past, attempts by companies like Facebook and Microsoft to take them mainstream have failed. Today, only a handful of people use these products.
Therefore, metaverse tokens like MANA, SAND, Enjin Coin, and AXS token have risen because of the ongoing hype. There is a belief that this hype could rival that of artificial intelligence.
Will the metaverse tokens rally continue?
Decentraland MANA price jumped by more than 6% while Sandbox and Axie Infinity price soared by more than 5%. Similarly, Enjin and ApeCoin rose by over 4%.
However, I believe that these gains will not hold because of a concept known as buying the rumor and selling the news. This is a situation where an asset price jumps ahead of a major news release and then declines when the news happens.
In this case, these tokens will retreat possibly because Apple's device will not have anything to do with these tokens and their ecosystem.
How to buy Decentraland
eToro
eToro is a global social investment brokerage company which offers over 75 cryptocurrencies to invest in. It offers crypto trading commission-free and users on the platform have the option to manually invest or socially invest. eToro even has a unique CopyTrader system which allows users to automatically copy the trades of popular investors.
Binance
Binance is one of the largest cryptocurrency exchanges in the world. It is better suited to more experienced investors and it offers a large number of cryptocurrencies to choose from, at over 600. Binance is also known for having low trading fees and a multiple of trading options that its users can benefit from, such as; peer-to-peer trading, margin trading and spot trading.
The post Here's why the MANA, SAND, Enjin, AXS token prices are soaring appeared first on CoinJournal.